WELCOME TO WELSH AUTOMOTIVE
Welsh Automotive | Auto Repair in Exton & West Chester
Honest and reliable local mechanics you can trust to keep your vehicle running its best for the safety of you and your loved ones.
WELCOME TO WELSH AUTOMOTIVE
Welsh Automotive | Auto Repair in Exton & West Chester
Honest and reliable local mechanics you can trust to keep your vehicle running its best for the safety of you and your loved ones.
WELSH AUTOMOTIVE
EXTON,PA
WELSH AUTOMOTIVE
WEST CHESTER,PA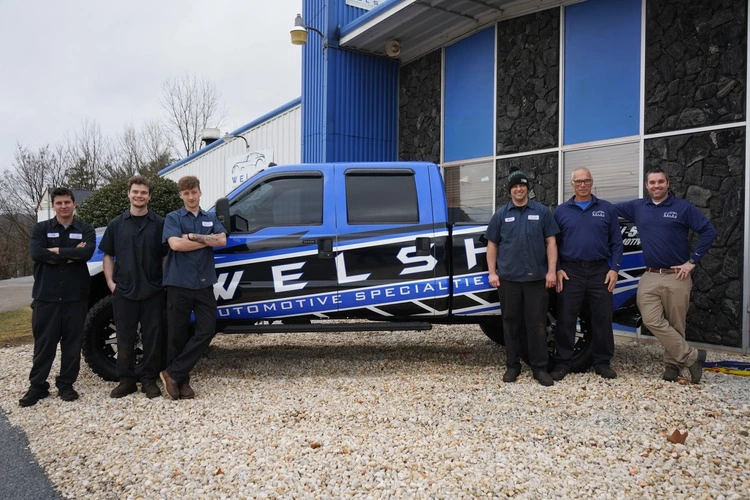 Exton and West Chester, PA
Auto Repair - Why Choose Welsh Automotive?
Welsh Automotive is a customer-centered auto repair shop with two locations in Exton, PA and West Chester, PA.
Our team of experts provides quality service that you can trust. We always put the customer first, from the moment you walk through our doors until the time you pick up your car. You won't find another repair shop like Welsh Automotive.
We want to make sure that your experience at our shop is top-notch. That's why we offer a free shuttle service, loaner cars, and a comfortable waiting area for our customers. We also have a second location in West Chester, PA for your convenience.
CLEAN FACILITIES &
FREE AMANITIES
CONVENIENT
SAME DAY SERVICE
FRIENDLY STAFF &
EASY COMMUNICATION
CUSTOMER SATISFACTION
IS GUARANTEED
FREE LOANER
VEHICLES OFFERED
FLEET ACCOUNTS
ARE WELCOME
2-YEAR / 24,000 MILES
WARRANTY ON REPAIRS

Exton and West Chester, PA
AUTOMOTIVE SERVICES - DIAGNOSIS, MAINTAIN, AND REPAIR
Welsh Automotive provides the best auto repair, brake service, tires, transmissions, and oil changes with auto repair garages located in Exton, PA and West Chester, PA.
We do a thorough inspection of your vehicle and do not cut corners because the entire point of a PA state inspectionis to ensure that your vehicle is safe to drive. Contact us to get the inspection your family needs!
A standard oil-change should occur every 3,000 to 5,000 on most vehicles or annually if you drive your vehicle less than 3k miles annually. Our oil changes include changing your oil filter and a multi-point inspection - just another way we care about you!
When your engine light turns on, schedule an appointment with a member of our team. If your engine light is blinking, pull over safely and call us as soon as possible. Your safety is our priority and we will gladly provide you with a tow so we can fix your car asap!
Buying a new or used car? We developed a pre-purchase inspection to protect our customers. In these inspections, we don't usually find a lemon, but we do find wear and tear items (i.e. brakes, shocks, etc.) that should be fixed prior to purchase or at least give you a bargaining chip!
Not every shop can do a wheel alignment. It is important to find a full service shop to handle your alignment, tire mounting, tire balancing, and tire rotation all in one shop so you get your car back sooner!
Vehicles can be an investment. We take care in educating our customers so they get the preventative maintenance their vehicle and life circumstances require. For example, not every vehicle needs an oil change every 3,000 miles.
All too often, customers have complained about getting their brakes changed prematurely. Contact us for a second opinion and our brake inspection whether you need to change your brakes now or at your next oil change.
Welsh understands that automotive repairs do not always happen at a convenient time. That is why we invested in three loaner vehicles at each location to better serve you - the customer.

CHOOSE WELSH FOR AUTO REPAIR
Whether for work, school, or everyday errands, your vehicle is an essential part of your fast-moving life. You depend on it to be available whenever needed and to perform to your expectations every time. For your car to meet those expectations, you've got to make sure it gets the basic maintenance that it needs. Welsh Automotive Specialties is your one-stop-shop in Chester County, PA, to help you keep your car running at peak condition with convenient locations in Exton, PA and West Chester, PA.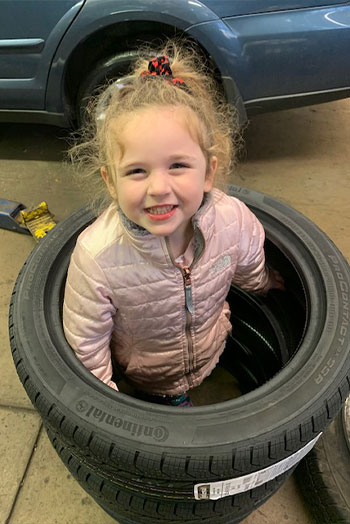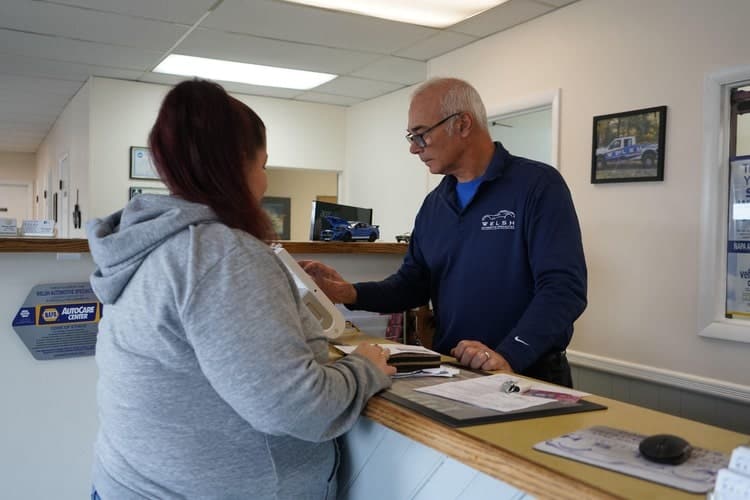 Most people think of their vehicle as a long-term investment. As with any valuable, it needs to be taken care of. Just like regular doctor and dental visits for you, your car needs regular check-ups too! We can perform overall system checks for preventative maintenance that will help you identify potential problems down the road, including:
Whether you need of immediate help or want to ensure your car is ready to support you for the long term, contact the professionals at Welsh Automotive Specialties today!
Frequently Asked Questions
What Is Preventative Maintenance?
Preventative maintenance is regular auto care that keeps your vehicle in good working order and eliminates any potential issues that could result in you being stranded. We all know that a well-maintained car is safer, more dependable, and lasts longer, as well as boosts customer satisfaction.
Auto services included in preventative and regular maintenance are:
Replacing air filters
Servicing windshield wipers
Servicing or tune-ups
Routine hose inspection
Engine oil changes
Battery service
Differential gear oil change
Trans-axle oil change
Exterior drive belt replacement
Timing belt replacement
Replacing transmission oil and filter
Power steering flush
Brake fluid flush
Rotate tires
Replace cabin air filter
Inspect. exhaust system for leaks
We offer all these services at reasonable prices to the West Chester community.
How Do You Know When Your Car Needs a Tune-up?
A few indicators are when your fuel efficiency drops or your car starts to run poorly. When the check engine light comes on, it may also mean that your car needs to be tuned up. Your vehicle's owner's manual may advise a tune-up at a specific mileage. When it comes to tune-ups and your auto repair needs in West Chester, our repair shop can do it all!
Why Do Your Brakes Squeak? What Is a Brake Job?
There are many causes of squeaking brakes; however persistent grinding noises and squeaks may indicate that you need new brake pads and shoes. Work brakes may result in greater stopping distances and more challenging emergency stopping. Too-thin drums and rotors could even crack from excessive tension. Remember, it's a good idea to have your brakes checked if you experience any of these symptoms.
A brake job involves replacing worn components in order to renew the vehicle's braking capacity. When it comes to brake repairs in West Chester, PA, 19382, we offer quality work at fair prices.
What Is the Number One Cause of Tire Damage?
While there are countless factors that can lead to damaged tires, the most common issue is poor tire inflation. Always keep a tire pressure gauge on hand, and check the pressure in each tire on a regular basis. Do you need auto repair? West Chester, PA, residents can rely on us whether they're dealing with a flat tire or a more serious issue.
Why Is the Check Engine Light on?
One of the most essential parts of a car that needs to be operating properly is the check engine light. The onboard diagnostic system of the car warns the driver of a potential issue. Even though your car appears to be running smoothly, when the check engine light illuminates, it indicates that one of your car's systems, such as the fuel injection, ignition, or emission control, is not functioning properly. If the catalytic converter is at risk of being harmed, the check engine light should be checked out right away if it comes on and is flashing.
Avoid going too fast when you see a flashing light, particularly if you're towing. There's no need to freak out when the check engine light turns on; simply schedule an appointment to have your car looked at right away. Ignoring your check engine light could result in serious damage to engine parts and increased costs.
How Long Will My Repairs Take?
Our auto repair shop in West Chester, PA, is aware of the value you place on your car, and we will exert every effort to finish your repairs quickly and accurately. Based on the required auto services, the expected time for repairs varies substantially.
Once we have established what needs to be done and how long it will take to obtain the necessary parts, our team of experts will give you a more precise time estimate.
When it comes to automotive repair in West Chester, PA, we're the most reliable team there is!
Why Should I Have My Cooling System Flushed?
The cooling system should ideally be flushed at the manufacturer-recommended intervals, which our auto body shop in West Chester, PA, can assist with.
If the car is used frequently, it is advised to have the system flushed once a year.
Over time, coolant degrades and becomes corrosive, which can quicken the breakdown of seals and gaskets. To avoid expensive auto repair in West Chester, the coolant should be changed before it becomes contaminated.
Our reliable team can perform a car inspection in West Chester and let you know if you need to get your cooling system flushed.
We have been serving the West Chester community for many years and offer cooling system flushes at reasonable prices.
Why Should I Change my Engine Oil Every Six Months or Every 3,000-5,000 Miles?
Over time, engine oil not only loses its ability to lubricate or viscosity, but it also accumulates acids and other combustion byproducts. 
These compounds are harmful to gaskets, seals, bearings, and other metal surfaces. Even if the lubricating quality of oils keeps improving, the materials in suspension damage the internal engine parts.
Changing the oil and filter every six months or 3,000-5,000 miles is a form of preventative and regular maintenance.
Whether you need a tune-up or oil change in West Chester, we are here to take care of all your auto repair needs.
Why Should You Choose Welsh Automotive Specialties for Your Auto Services?
Whether you need regular tune-ups or help changing a flat tire, our experienced mechanic in West Chester, PA, can get the job done professionally and efficiently.
We provide high-quality work at fair prices to the entire West Chester community, and our goal is to keep doing it for many years to come.
If you're looking for professional and reliable car repair in West Chester, PA, we're the team to call.
When Should I Replace My Brake Pads?
Brake pads wear out for various reasons. Therefore, recognizing the warning signs can help determine when it's time to change your brake pads.
Scheduling a checkup is essential if you feel your car taking longer to stop or hear a high-pitched screaming or grinding noise when braking. However, if your brakes are already too far gone, we offer professional auto repair in Exton, PA.
If you need to replace your brakes in West Chester, our family-owned business is the team for you!