PA AUTO REPAIR & PA STATE INSPECTIONS
Once known as Wiley's Care Car since the 1950's, Welsh Automotive Specialists invites you back to your favorite repair shop, just with a new face. Many of your favorite technicians and staff, who you may have grown to love, are still lending a hand throughout the new shop! Helping with all of your auto repair needs that you may have, or past work you may be inquiring about, Welsh Automotive is here for you!
Whether you're using your car to get to work, school, or get some errands done in the Thorndale area, there will come a time where it will need some repairs made. When this time comes, you want to trust that your car won't fall apart and will get you safely from one place to another. For your car to meet these basic expectations, you've got to make sure you're getting your auto repair needs taken care of by professionals. At Welsh Automotive Specialties, we are your one-stop-shop in the Thorndale, PA area to ensure your car is running at peak condition.
Thorndale is a very small, but lucrative town in Chester County that happens to be the commercial and administrative center of Caln Township. Featured along the center of town, is Main Street (Route 30) which is home to many small mom & pop shops that have been around for years.
With Thorndale being so close to our main shop location in West Chester, it has become a hot spot for local residents to have their auto repair & state inspection needs met without traveling too far.
In Thorndale & the rest of Pennsylvania, you're required to have your vehicle inspected at least once a year to ensure that your car is meeting all the requirements for it to be out on the road. This can sometimes be a length process, but at Welsh Automotive Specialties we are the preferred local shop for inspecting your car and making sure it will meet all of these requirements (as well as letting you know where work needs done).
We have a lengthy history of satisfactory clients throughout the Thorndale area letting us know how much easier it was to get their car inspected at a local shop rather than waiting in long lines at other conventional locations.
All of our state inspections are done by in-shop auto care technicians who have years and years of experience under their belt dealing with almost any situation you may bring to us. Some main aspects of your car that we thoroughly inspect are: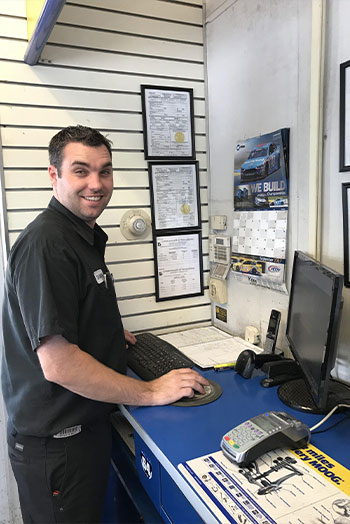 When Should You Repair Your Car? Here's the Answer
Auto Repair in Thorndale, PA
Knowing when you'll need a car repair can be tricky, especially if you're new to driving. Even though most cars will give you a sign they need a repair, it sometimes isn't that obvious.
The best thing you can do to ensure you don't pay hefty bills all the time is to get your car inspected a few times per year. Moreover, you should work with a repair shop that offers excellent service so that you don't have to worry about faulty repairs.
Whether you need a brake repair or an oil change, our team at Welsh Automotive Specialties can help.
On this page, we'll explain when you should consider our auto repair services and why.
When Should You Get a Car Repair Near Thorndale, PA?
The short answer to this question is: As soon as you notice there's a problem with your car. If you replace any faulty parts in a timely fashion, you will ensure your car doesn't break down when you least expect it.
Now, keep in mind that some problems may be more severe than others, but they're all important. Some people, for example, avoid doing their oil change service until the last minute, which can affect the engine's performance and lifespan.
On the other hand, if you're having issues with your tires or brakes, then you can't afford to wait to fix them. If you wait too long, you risk your car breaking down or even causing an accident while you drive.
Sometimes, it can be easy to tell that you need an auto service since one of your car's parts may start making weird noises. However, you can't rely on your car making noises to decide to take it to the shop.
In any case, the best thing you can do is take your car for regular maintenance sessions and check-ups. In these sessions, our mechanics will be able to tell you if you need to fix or replace something before it's too late.
You must also get your car in for a state inspection at least once a year, according to Pennsylvania law. Once our professional team takes a look at your car, they will tell you if there's anything it needs before you get it back on the road.
Signs You May Need Auto Repair Services
Here's a list of common signs that show your car may need a repair service:
Leaks (water, transmission fluid, coolant, etc.)
Problems with your steering wheel
Another thing you can do is pay attention to your car's "Diagnostic Lights" if it has them. While the light may not always suggest you have a problem, it will suggest your car needs to get checked just in case.
Why Should You Repair Your Car Instead of Replacing It?
Most car issues can get fixed if you go to the right repair shop. Keep in mind that car repairs or services like an oil change will always be cheaper than getting another vehicle.
Even though some people think that fixing their car isn't worth the trouble, we still recommend you take it for an inspection at our shop.
What Happens If You Don't Get a Repair in Time (i.e. a Brake Repair)?
As mentioned before, some people prefer skipping their car check-ups and driving their vehicle until it finally breaks down. Besides the high repair costs you will have to pay and the higher risks of getting into an accident, you could also affect your vehicle's lifespan.
If you don't get new tires when you need to, for example, you will have problems braking and stopping, getting better road grip, and more. All of those issues can cause further problems with your car.
The more damaged parts your car gets, the more difficult it will be to fix it.
Get a Service Appointment Today!
We aim to be your one-stop shop for any auto repair needs you may have. You can use our "Online Appointments" option to get in touch with our team right away.
All you have to do is fill out the form with your information and what you need, and wait. Our Thorndale auto repair shop will gladly cover all your repair/inspection needs in Chester County.
We also offer our services in Downingtown Pike, West Chester, and Pottstown Pike, Exton, so rest assured that you won't have any issues getting the auto repair services you deserve.
If you need an oil change in Thorndale, PA, or any other service for your vehicle, you can count on us!