PA AUTO REPAIR & PA STATE INSPECTIONS
Once known as Wiley's Care Car since the 1950's, Welsh Automotive Specialists invites you back to your favorite repair shop, just with a new face. Many of your favorite technicians and staff, who you may have grown to love, are still lending a hand throughout the new shop! Helping with all of your auto repair needs that you may have, or past work you may be inquiring about, Welsh Automotive is here for you!
Whether you're using your car to get to work, school, or get some errands done in the Marshallton area, there will come a time where it will need some repairs made. When this time comes, you want to trust that your car won't fall apart and will get you safely from one place to another. For your car to meet these basic expectations, you've got to make sure you're getting your auto repair needs taken care of by professionals. At Welsh Automotive Specialties, we are your one-stop-shop in the Marshallton, PA area to ensure your car is running at peak condition.
Marshallton is an unincorporated community and federal historic district in Chester County, PA. It is one of three historic districts in West Bradford Township that are on the National Register of Historic Places. The village is largely known for its historic buildings, some notable restaurants, and the nearby Highland Orchards, a pick-your-own orchard offering a variety of produce year round and very popular for its apples and pumpkins as well as products made from the same. Highland Orchards is a frequent field trip destination for local schools, especially in the fall.
With Marshallton being so close to our main shop location in West Chester, it has become a hot spot for local residents to have their auto repair & state inspection needs met without traveling too far.
In Marshallton & the rest of Pennsylvania, you're required to have your vehicle inspected at least once a year to ensure that your car is meeting all the requirements for it to be out on the road. This can sometimes be a length process, but at Welsh Automotive Specialties we are the preferred local shop for inspecting your car and making sure it will meet all of these requirements (as well as letting you know where work needs done).
We have a lengthy history of satisfactory clients throughout the Marshallton area letting us know how much easier it was to get their car inspected at a local shop rather than waiting in long lines at other conventional locations.
All of our state inspections are done by in-shop auto care technicians who have years and years of experience under their belt dealing with almost any situation you may bring to us. Some main aspects of your car that we thoroughly inspect are: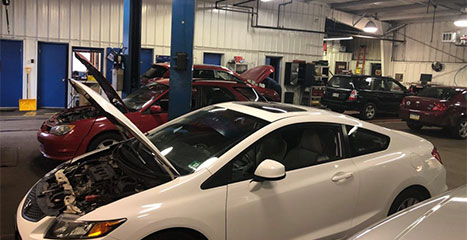 The Importance of Getting a Professional Auto Repair in Marshallton, PA
When was the last time you got your car in an auto repair shop for an inspection? In most cases, people avoid these businesses for longer than they would want to admit.
Even though it's hard to make your car last forever, it's possible to extend its lifespan. Our car repair services near Marshallton will help you ensure you enjoy your vehicle for many years to come.
Welsh Automotive Specialties is a family-owned business committed to giving your car the repairs/maintenance it needs to keep working correctly. Our goal is to cover all your auto repair needs if you live near Marshallton, ensuring optimal performance all year long.
Here, we'll cover the importance of auto repair services and how they can benefit your car or truck in the long run.
Why Should You Always Get Professional Automotive Repair Services?
There are many reasons why you should consider hiring an auto repair professional instead of trying to do these repairs yourself. Whether you need a simple oil change or a complex transmission repair, hiring a professional will always be the better option.
Our team near Marshallton can offer you:
Here's an overview of what benefits you'll get with our professional service.
Dealing with Small Issues on Time
Unfortunately, every vehicle can start breaking down one small part at a time. Some car parts, such as the engine, transmission, or suspension, are made up of many smaller parts. As they become damaged, they will affect your car's overall performance.
If you don't fix these issues on time, your car could start failing while you're driving, which will put you in a dangerous situation.
Our professionals near Marshallton have the experience to identify and fix even the smallest issues, ensuring you don't have to worry when you're on the road.
Saving Time and Money
Preventive maintenance and repairs will save you both time and money. If you have a small leak in your car, for example, you could fix that with a single trip to our auto repair shop. 
On the contrary, if you let the leak get worse, you may have to pay heftier fees for your repairs, and our team may also take longer to get them done.
If you have some car repair knowledge, you may be tempted to do maintenance services yourself. However, keep in mind that if you make the slightest mistake, you can make the problem worse, which will make you spend more money and time in the future.
In essence, if you're not 100% sure of what you have to do, it's best to leave the job to an auto repair business like ours.
Solving Your Problems, Not Making Them Worse
Hiring the wrong person to repair your vehicle can make your problems worse. Regardless of your car's model, you must always hire someone who knows how to deal with it without making the problems worse.
A great thing about professionals is that they can tell how a small problem can progress and get worse. Once they repair your vehicle, they will be able to tell you what the problem was and how you can prevent it from getting it again.
While it's impossible for all your car parts to work efficiently forever, we will give you all the tips necessary to that you take good care of your car and avoid making too many trips to the auto repair shop.
Learning More About Your Auto Repair Needs
In any case, it's great to know more about your car, its parts, and how you can take care of it. Once you hire our auto repair team near Marshallton, you'll be able to ask any questions you may have surrounding your vehicle.
There are some small maintenance tasks you can do on your own, so feel free to ask our team what you can do to keep your car working as intended.
Schedule Professional Auto Repair Services Today!
Finding the right auto repair shop near Marshallton can be a problem, as not all professionals will be able to handle your car in the best way possible.
We want to be your repair shop of choice, so if you're wondering what else we can do for your vehicle, request an appointment today, and let us look at it to see what we can do!