PA AUTO REPAIR & PA STATE INSPECTIONS
Once known as Wiley's Care Car since the 1950's, Welsh Automotive Specialists invites you back to your favorite repair shop, just with a new face. Many of your favorite technicians and staff, who you may have grown to love, are still lending a hand throughout the new shop! Helping with all of your auto repair needs that you may have, or past work you may be inquiring about, Welsh Automotive is here for you!
Whether you're using your car to get to work, school, or get some errands done in the Berwyn area, there will come a time where it will need some repairs made. When this time comes, you want to trust that your car won't fall apart and will get you safely from one place to another. For your car to meet these basic expectations, you've got to make sure you're getting your auto repair needs taken care of by professionals. At Welsh Automotive Specialties, we are your one-stop-shop in the Berwyn, PA area to ensure your car is running at peak condition.
Malvern, PA is a borough in Chester County. The area was originally settled by Welsh immigrants in the 17th century. The town's name was changed in 1873, when the Philadelphia and Columbia's successor, the Pennsylvania Railroad, established its' tracks in the village. Malvern was incorporated August 13, 1889 having separated from the northern portion of Willistown Township.
With Malvern being so close to our main shop location in West Chester, it has become a hot spot for local residents to have their auto repair & state inspection needs met without traveling too far.
In Malvern & the rest of Pennsylvania, you're required to have your vehicle inspected at least once a year to ensure that your car is meeting all the requirements for it to be out on the road. This can sometimes be a length process, but at Welsh Automotive Specialties we are the preferred local shop for inspecting your car and making sure it will meet all of these requirements (as well as letting you know where work needs done).
We have a lengthy history of satisfactory clients throughout the Berwyn area letting us know how much easier it was to get their car inspected at a local shop rather than waiting in long lines at other conventional locations.
All of our state inspections are done by in-shop auto care technicians who have years and years of experience under their belt dealing with almost any situation you may bring to us. Some main aspects of your car that we thoroughly inspect are: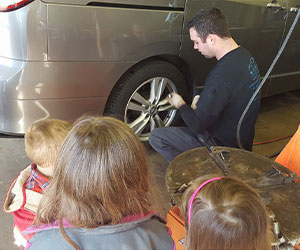 Auto Repair in Malvern, PA:
Trustworthy and Affordable Auto Repairs and Oil Changes at Welsh Automotive
Are you looking for a professional and reliable car service in the Malvern area?
Look no further than Welsh Automotive! We are a family-owned and operated business that has been providing high-quality auto repair and maintenance services, oil changes, and engine repair to the Malvern area and beyond for many years.
Our team of ASE-certified technicians is dedicated to ensuring that your car is running at its best by helping you replace your tires, and we offer the best oil change service to meet all of your automotive needs. 
Whether you need an oil change, tire assistance, transmission repair, or any other type of auto maintenance, we are here to help in the 
Lancaster Ave and surrounding areas.
Services Offered by Welsh Automotive
Welsh Automotive is a one-stop shop for all your auto service needs in the Malvern, PA, area. Our ASE-certified technicians have years of experience working on all types of vehicles, including cars, trucks, and SUVs. 
We provide many services to keep your vehicle running smoothly and efficiently, including oil changes, ensuring your safety, and staying away from a tow truck. 
Here are some of the services we offer: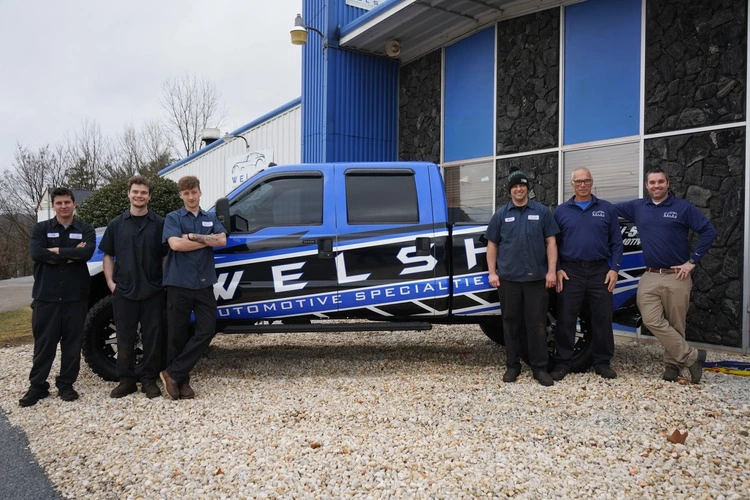 At Welsh Automotive, we pride ourselves on providing honest service at fair costs. We take the time to understand your needs and provide you with customized solutions that meet your specific requirements. With our expertise and attention to detail, you can trust us to keep your oil filled and your car's engine running smoothly and safely for years to come.
ASE Certified Technicians
Welsh Automotive has ASE (Automotive Service Excellence) certified technicians equipped to handle all types of repairs and maintenance, including oil changes. Our certified technicians have the necessary knowledge and skills to perform high-quality services on your auto.
We use advanced diagnostic tools and equipment to diagnose and repair any issues in your vehicle's engine, transmission, brakes, suspension, steering, oil, and other systems. 
Moreover, our team is dedicated to getting more positive reviews from our clients, so providing you with the highest level of service is what we strive to offer you. Choose Welsh Automotive for amazing assistance, schedule an appointment, and get back on the road safely and quickly.
Quality Service and Fair Prices
At Welsh Automotive, we believe that quality assistance and fair costs go hand in hand. Our goal is to provide you with the highest level of help while keeping our prices competitive and affordable.
We understand that auto maintenance and repairs can be costly, so we offer transparent pricing for oil changes and various options to fit your budget. 
Moreover, we use high-quality parts, oil, and equipment to ensure that your car's engine is running at its best, and we offer fair pricing in Lancaster Ave and surrounding areas.
Our team is committed to providing you with excellent assistance that exceeds your expectations.
Furthermore, we work efficiently to minimize your wait time and ensure your auto is returned to you in top condition. Whether you need to replace your tires, do routine maintenance, repair, do an oil change service, or have a specific helping hand, we are here to assist you.
We are committed to providing you with the best possible service for your auto at Welsh Automotive. Our team of ASE-certified technicians is dedicated to keeping your vehicle running smoothly and efficiently. Whether you need an oil change, tire service, engine or hoses repair, or any other type of our popular services, we are here to help.
Therefore, if you're nearby Malvern, PA, or the surrounding areas and are in need of quality automotive services, look no further than Welsh Automotive. Contact us today to schedule an appointment, and let us help you maintain the life of your car's engine. 
Don't wait for full service auto repair until your vehicle breaks down or your oil is old; take action now, make your next appointment for our popular services and experience the outstanding assistance, fair price, and professionalism that Welsh Automotive in Malvern, PA offers.