PA AUTO REPAIR & PA STATE INSPECTIONS
Once known as Wiley's Care Car since the 1950's, Welsh Automotive Specialists invites you back to your favorite repair shop, just with a new face. Many of your favorite technicians and staff, who you may have grown to love, are still lending a hand throughout the new shop! Helping with all of your auto repair needs that you may have, or past work you may be inquiring about, Welsh Automotive is here for you!
Whether you're using your car to get to work, school, or get some errands done in the Berwyn area, there will come a time where it will need some repairs made. When this time comes, you want to trust that your car won't fall apart and will get you safely from one place to another. For your car to meet these basic expectations, you've got to make sure you're getting your auto repair needs taken care of by professionals. At Welsh Automotive Specialties, we are your one-stop-shop in the Berwyn, PA area to ensure your car is running at peak condition.
Berwyn has a deep rooted culture that is centered by its' non-profit theater that is known as the Footlighters' theater. The theater itself has provide entertainment to the area for over 80 years. The area is also home to the public school system known as Tredyffrin/Easttown School District. Berwyn also is home to outdoor activities through its service of Frank Johnson Memorial Park.
With Berwyn being so close to our main shop location in West Chester, it has become a hot spot for local residents to have their auto repair & state inspection needs met without traveling too far.
In Berwyn & the rest of Pennsylvania, you're required to have your vehicle inspected at least once a year to ensure that your car is meeting all the requirements for it to be out on the road. This can sometimes be a length process, but at Welsh Automotive Specialties we are the preferred local shop for inspecting your car and making sure it will meet all of these requirements (as well as letting you know where work needs done).
We have a lengthy history of satisfactory clients throughout the Berwyn area letting us know how much easier it was to get their car inspected at a local shop rather than waiting in long lines at other conventional locations.
All of our state inspections are done by in-shop auto care technicians who have years and years of experience under their belt dealing with almost any situation you may bring to us. Some main aspects of your car that we thoroughly inspect are: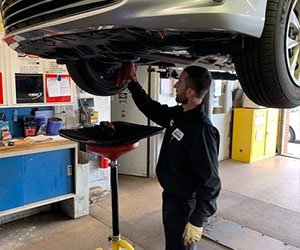 Looking For Top-tier Auto Repair in Berwyn, PA?
If there is one thing Pennsylvania has a lot of, it's cars! With so many vehicles on the road, it's no wonder that finding a good place to get the repairs and maintenance your car needs is becoming quite complicated.
Not all these so-called "vehicle service professionals" operating throughout Berwyn, PA can get the job done properly. Many of them specialize in charging exorbitant fees and not much else.
If you are looking for an auto repair and service team with the right expertise and business model to deliver top-tier maintenance services, visit Welsh Automotive in Berwyn, PA for a free appointment.
How Can Welsh Automotive Help You Today?
At Welsh Automotive, we are here to serve the residents of Berwyn, PA by offering professional advice, honest inspections, and efficient auto repair service to all who visit our repair shop.
No matter what type of repair and maintenance service you require, our team of professionals has the required experience to ensure they provide the care and efficient repairs you need.
That is why many of our happy clients will readily recommend Welsh Automotive as the auto repair and service technician of choice for car owners in Berwyn, PA. Visit us today and let us know what service we can provide to make your car feel and perform like the first day you drove it from the dealership.
When it comes to car repair Berwyn, PA residents have learned to trust Welsh Automotive for all their needs.
As a family-owned local business, Welsh Automotive and its partners have years of experience working with this great community and providing its car owners with the following services:
Heard About Our Auto Repair Warranty?
Thanks to Welsh Automotive's NAPA AUTOCARE Peace of Mind Warranty, you can rest assured that when you book an appointment at our repair shop, your vehicle will be in good hands!
Looking For Professionals in Auto Repair? Berwyn, PA Has a Great Team at Welsh Automotive
You can add several years to the lifespan of your vehicle just by regularly conducting repair and maintenance services at Welsh Automotive! Text or call (610) 436-8800 today and ask for a free appointment.